Wellbeing for older adults and the effects of fake news and social media
Tuesday, September 01, 2020
Image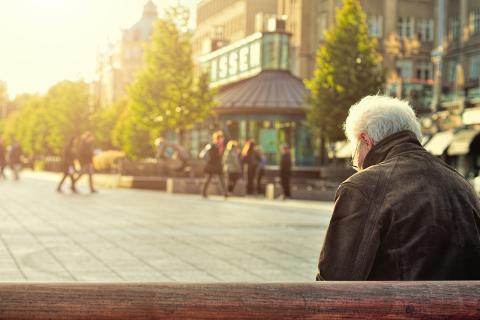 As an international alliance of highly ranked research-intensive universities, the PLuS Alliance has both the opportunity and responsibility to harness its research expertise to support the global response to the COVID-19 pandemic. Professor Reza Razavi, President & Vice-Principal (Research) at King's College London and the Director of Research at King's Health Partners said "Two trilateral research projects have been identified which will add value to the work on the pandemic, at a time when the world's best researchers are heavily focussed on providing breakthrough solutions to a range of challenges." The research projects will examine the social consequences of the pandemic from two different perspectives
Institutional responses during health crises - challenges from fake news and social media
Improving psychological wellbeing for older adults during and after the Covid-19 outbreak.
Why is the impact of fake news important for democracy?
COVID-19 is not transmitted by houseflies. Holding one's breath for ten seconds is not a test for COVID-19. And Russian President Vladimir Putin did not release 500 lions in Moscow to persuade the city's residents to stay indoors as part of the efforts to fight the pandemic. As bizarre as some of these assertions sound, these topics were trending on social media as people tried to alleviate the fear of and find information about this new virus. The rapid global spread of COVID-19 has been accompanied by an equally pervasive misinformation pandemic or what the World Health Organization has described as a "massive infodemic".
Perceived uncertainty around health crises is aggravated by misinformation and fake news, which are disseminated through a wide range of social media channels. In their response to misinformation and fake news, the trilateral team of Dr Michael Etter and Dr Jonathan Schad (King's), Prof Jonathan Bundy (ASU) and Associate Prof Josh Keller (UNSW) will examine the challenges faced by institutions and the extent to which vicious cycles of fake news can be broken. As the dynamics around public relations shift, fuelled at times by leading politicians, institutions face challenges around escalating dynamics of public reactions – and to date little is known how institutions can effectively respond in such crises in order to guarantee social cohesion and build resilience within an increasingly fragmented public sphere.
Bisi Olulode, Communications Officer asked Dr Etter if changes in the media landscape has made information sharing more democratic?
Dr Etter "The evidence is mixed. Clearly, there is more participation by a larger and more diverse set of actors, which has increased the heterogeneity of sources and content. However, research indicates that powerful actors, such as major news outlets, are still dominating the public agenda setting. Accurate information is the basis for a functioning democracy. Citizens must make decisions, based on accurate information. If this information is inaccurate, citizens cannot make an informed decision, which prevents the working of a democracy."
Facebook, Twitter and Google have all come under scrutiny for their roles in propagating false narratives. Algorithms can be constructed to encourage this because it also generates income.
"Facebook is a profit-oriented organization that generates its income mainly through advertising. This means that more engagement leads to more revenue. The algorithms of Facebook are programmed to increase engagement. We know that fake news as well as polarising content increase engagement, and therefore Facebook is rewarding this kind of content." Dr Etter commented. In terms of countering fake news Dr Etter sees this as a difficult endeavour "Research has shown that fake news spreads faster and wider than real news. This has to do with the arousal effect on individuals, which elevates their emotional state and makes them more likely to spread news and makes it go viral. Flagging news as fake, as some social media companies do now, might have only a limited effect, as such measures appeal to the rational side and less to the affective side, which is responsible for the spread of fake news."
Countermeasures by institutions to undermine the proliferation of fake news in a health crisis have yet to be quantified. As part of this research quantitative methods will be utilized to analyse polarization of public reaction to the COVID-19 crisis by focusing on data from Twitter, and qualitative methods to study institutional responses from government agencies/regulators from the UK, USA, Australia, and Hong-Kong for comparative analysis. Overall, this study aims to contribute to a better understanding of the responses and perceptions of the public during a pandemic health crisis, as well as to effective crisis response by regulators.
How can the psychological wellbeing for older adults during and after the Covid-19 outbreak be improved?
This research led by Professor Richard Knopf (ASU), Professor Henry Brodaty (UNSW) and Professor Dag Aarsland (King's), will study and compare psychological impacts of the COVID-19 pandemic on older adults in the US, Australia and the UK during and after COVID-19, including quality of life, mental health, coping strategies, loneliness, resilience and cognition.
Zunera Khan, Research Portfolio Lead said "A recent study has shown that social distancing is more likely to have greater psychosocial impacts on older rather than younger adults. These psychosocial impacts, such as reduced quality of life and increased depression and anxiety, can be wide-ranging, substantial, and could potentially become long lasting (Brooks et al., 2020). Although several individuals will become infected with the virus and few will be severely ill, yet nearly everyone will be affected by the anxieties and social distancing consequences."
The multidisciplinary team will conduct a pilot study across the three countries to evaluate the use of novel online psychological interventions. Comparisons will be made of different interventions in the three countries. The objectives are to reduce the direct and indirect negative psychosocial effects of COVID-19 pandemic using online behavioral intervention to increase resilience and improve the quality of life for older adults.
Among the many aspects which the research will need to consider are the cultural, psychological, societal, economic, IT accessibility of the different countries and different groups within those countries to gather qualitative data. Only people with IT access will be able to participate in the study, which may limit its reach. "The inclusion criteria only specifies people aged above 50. Data on ethnicity is collected as part of this study and we will use this to explore ethnic differences among older people during the Covid-19 pandemic. We recognise the problem of racism and structural barriers to minority communities in the research system. Therefore, other projects within our team are exploring Black and Asian Minority Ethnicities and faith groups during Covid-19." Zunera Khan comments.
The importance of this study and similar research cannot be undervalued at a time when the anxiety, depression and panic triggered by the pandemic could have a more detrimental effect on the wellbeing of older people in the long term than the virus itself.
The findings from the two COVID-19 Resilience research projects will be published in 2021.
Contact Bisi Olulode, Communications Officer Olabisi.olulode@plusalliance.org