Ten Questions | Edward Bartolo, Student Leader
Thursday, November 30, 2017
Edward Bartolo is a student at UNSW in his 4th year of a Commerce degree and is currently Chair of the Baord of Arc @ UNSW (UNSW's student organisation with over 30 000 members). He was a founding member of the PLuS Alliance Student Council in 2016 and has been collaborating with student colleagues at ASU and King's to develop a charter and a program for student experience and activities. Here he talks to us about the PLuS Alliance Student Council and plans for the future.
"The PLuS Alliance Student Council has really expanded my views on what is possible. The most valuable aspect so far has been the knowledge-sharing."
How did you become involved with the PLuS Alliance
In my role as General Secretary of the UNSW SRC in 2016 I had the privilege of visiting ASU in November 2016 to meet with student leaders from both ASU and King's College London. We decided at this meeting that there was a great opportunity for students to work in partnership with the broader PluS Alliance to achieve positive outcomes for students across our institutions.
Can you describe the PLuS Alliance Student Council, its structure and objectives
At its heart, the PLuS Alliance Student Council aims to create, enable and deploy linkages between the student organisations across the three universities to advocate for and facilitate closer cultural, artistic, social, sustainable, recreational and entrepreneurial outcomes for students at each institution. We also act as an advocacy body to ensure that the student voice is heard within the broader governance of the PLuS Alliance.
What impact has the PLuS Alliance Student Council had on how we think about our student experience / collaboration
I know that, personally, the PLuS Alliance Student Council has really expanded my views on what is possible. The most valuable aspect so far has been the knowledge-sharing. Just one example is that I and my colleagues have used the learnings from my counterparts at ASU and King's to design a new way to work in partnership with UNSW, known as the UNSW Student Priorities. This is directly modelled from the structure that ASU Student Leaders use. The knowledge-sharing has also been invaluable in how we work with UNSW to improve mental health services and sexual assault prevention programs for students, by being exposed to best practice at ASU and King's.
What are some of the key activities the PLuS Alliance Student Council has undertaken since its inception
As well as setting up the Council during two face-to-face meetings in 2017, and our knowledge-sharing regarding advocacy, we also planned the foundations of an international hackathon and coordinated activities on Mental Health Day. During a visit to UNSW by ASU and King's earlier this year, we participated in multiple designing sessions (design sprints) to design a hackathon that could take place following the sun between our three institutions. Teams would be interdisciplinary and mixed between the institutions, solving some of the toughest problems that we face globally. Our design was piloted with just UNSW students in September at the MCIC, and due to its success we are looking at rolling out the full hackathon in 2018!
Student Leaders from the three PLuS Alliance universities see mental health as a serious problem facing our students. We have been sharing knowledge on best practice ever since our inception in 2016 and has contributed greatly to UNSW's current review into its services relating to mental health. In addition to this, student leaders from each institution spoke at length about Mental Health Day, and the Student Leaders ran events at each of our campuses.
What's in the pipeline for 2018
As well as the full hackathon, we plan to go even further for Mental Health Day and fully coordinate our events so that more students recognise that mental health truly is a 'universal experience' (the tagline we coined for a collaboration), and that we need to work together to tackle the issues and come in earlier for both prevention if possible and treatment.
Have you identified any road-blocks or challenges
It has been challenging to coordinate events across the three campuses. Student leaders have many time pressures due to their commitment to their work, studies, jobs, family, friends etc. As well the international time differences have proved challenging trying to work out convenient times for calls over three time zones has been difficult at times, and has meant lost sleep for some of us but we all share the load!
Have you contributed to the thinking and design around the Bachelor of International Public Health in terms of student experience
We contributed in terms of the core expectations that we have for students studying as a part of the PLUS Alliance. Our plan for 2018 is to have even bigger discussions between our student organisations about how we can build community across the world and digitally, as more institutions begin virtually delivering content.
It would appear that the PLuS Alliance Presidents, Executive and Advisory Board are very open to student involvement – is that your experience? How has that impacted on the PASC activities
We've found the broader governance of the PLuS Alliance extremely supportive of what we are doing, and that has made our work even easier. It's incredibly difficult to try to work as a team spread across the globe, and we have certainly faced our challenges – but it makes it so much easier having support from the broader PLuS Alliance. Additionally, the support from UNSW's PLuS Alliance team - we work specifically with Vinita Chanan and Megan Tapia - has been invaluable.
What next for Ed Bartolo
Hopefully I'll finish my degree at some point!
I was incredible lucky to recently receive the Gail Kelly Global Leaders Scholarship (who is, coincidently, on the recently-appointed PLuS Alliance Advisory Board), which will allow me to study for six months in Cape Town, South Africa. My goal is to foster closer relationships between the student bodies of UNSW and the University of Cape Town, and the experience I've had with the PLuS Alliance Student Council is invaluable in exposing me to ways that I can do this. I look forward to continuing to help build UNSW's partnerships across the world – I'm dedicated to making the world a better place and solving the toughest problems currently facing us.
Any final thoughts …
We're all so excited to really see the PLuS Alliance grow, and the incredible opportunities that will come out of it!
About Edward Bartolo
Edward Bartolo is a Commerce student at UNSW and Chair of Arc@UNSW's Board of Directors. He has previously served as a Student Director and Honorary Treasurer on the Arc Board. Throughout his university career, he has been heavily involved in student life and held various roles across UNSW. He has served as Welfare Officer and General Secretary on the Student Representative Council; has been one of the ten Organising Team members of O-week; and has held the positions of Residential Fellow and Deputy Dean at UNSW Residential Communities. Edward was part of a delegation of UNSW student leaders that travelled to ASU in 2016 and established the PLuS Student Council. He helped to organise UNSW hosting ASU and KCL student leaders for a conference in March 2017 and is committed to building an enduring partnership between student leaders and the PLuS institutions, to create the best student experience across the world.
PLuS Alliance Student Council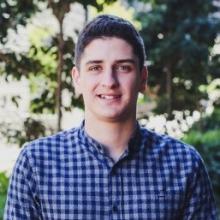 PLuS Alliance Student Council